Online Safety
The internet is an exciting and fun place for adults and children to use and explore educationally and socially. The challenge for parents, carers and teachers is to make sure our children are aware and understand how to be safe when using the internet and related technologies.
We teach children about online safety in school. We have regular online safety lessons and assemblies. Every February, we participate in the European-wide Safer Internet Day. We also have five online safety rules which you can see in the table below.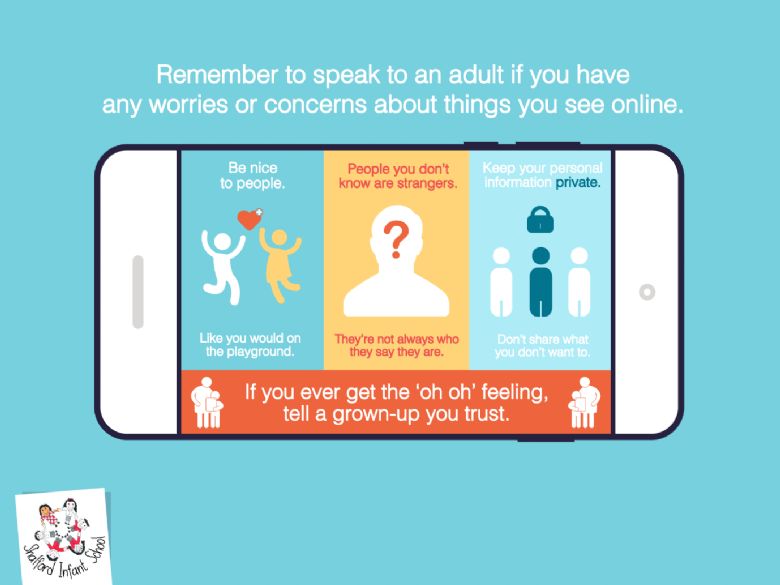 Many parents and carers do seek advice on how they can help their children to 'Stay Safe' online outside of school. These websites provide comprehensive information about online safety and once parents and carers have a wider knowledge and understanding of the issues they can decide what is right for their family.
www.thinkuknow.co.uk - The Child Exploitation and Online Protection (CEOP) Centre has set up its own educational website which has been designed and written specifically for children, young people, teachers, parents and carers.
www.getsafeonline.org/ A beginners guide to using the Internet safety, including a quiz and some video tutorials about how to 'stay safe' on-line.
www.kidsmart.org.uk/ - Kidsmart is an award winning internet safety website for parents and those working with children. It has been developed by the children's internet charity Childnet International and has excellent information on many of the technologies used by children, with guidance on how to 'stay safe' online.
https://www.vodafone.co.uk/mobile/digital-parenting - Vodafone have developed this website in conjunction with Mumsnet. It is very accessible and provides information and guidance to parents with understanding their child's digital world and get more involved. There is even an on-line test to see how much you know!
https://www.nspcc.org.uk/preventing-abuse/keeping-children-safe/online-safety/ - The NSPCC has an excellent website filled with suggestions about how you can talk to your child about online safety and sharing appropriate images with others. The NSPCC have also created a database of games, apps and websites.

CEOP is a command of the National Crime Agency, and is dedicated to tackling the sexual abuse and exploitation of children and young people. CEOP is here to help young people (up to age 18) who have been forced or tricked into taking part in sexual activity with anyone online or in the real world. We also offer advice and links to support in response to other online problems young people might face, such as cyberbullying or hacking. For information, advice and to report concerns directly to CEOP, visit the Safety Centre by clicking on the Click CEOP button.