Key Stage 1
Year 1, Ash Class & Year 2, Pine Class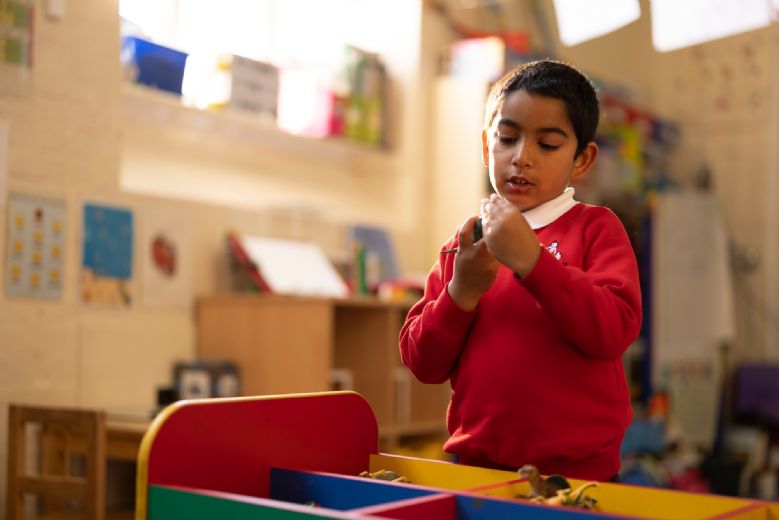 As children move through the school the emphasis is retained on high quality learning. Teachers use the programmes of study from the National Curriculum to ensure that children learn key strategies and elements of these core subjects whilst having opportunities to practise, rehearse and improve on their understanding.
Reading and Phonics
Children learn to read through specific teaching of keywords and strategies to work out unfamiliar words. All children take part in a daily phonics session within the class whereby understanding of initial sounds to building simple words and more complex blends are practised and rehearsed at an ability level appropriate to each child. Using the Letters & Sounds phonics programme, our phonics teaching follows a progression of phases which builds understanding, makes links between learning and practises reading and writing spelling patterns. These skills are complemented by group or individual reading. However, the enjoyment that can be gained from reading is also encouraged through talking about stories, questioning their comprehension and an emphasis on sharing and enjoying listening to, and reading, favourite books. We have a very well stocked library which enables children to become engrossed in reading and teaches vital library and research skills. We hold a regular Book Week, often with a visiting author, through which children learn about specific authors or styles of books and are engaged in reading and writing about them.
Home and School Reading
All children are included in group or individual reading sessions. Taking into account their ability, children will progress through our finely graded reading scheme books based on our phonics programme. . Pupil progress is assessed continually using specific criteria at every level. Children are encouraged to make their own choice of home reading book from within their book band.
Writing
Skills for writing are developed through using the understanding of sounds and word recognition whilst also learning the shape of letters through regular handwriting practice. Children are encouraged to sound out words and build a vocabulary of sight recognition words. A focus on understanding written language through use of punctuation and grammar brings variety and accuracy to children's writing as their confidence increases.
Maths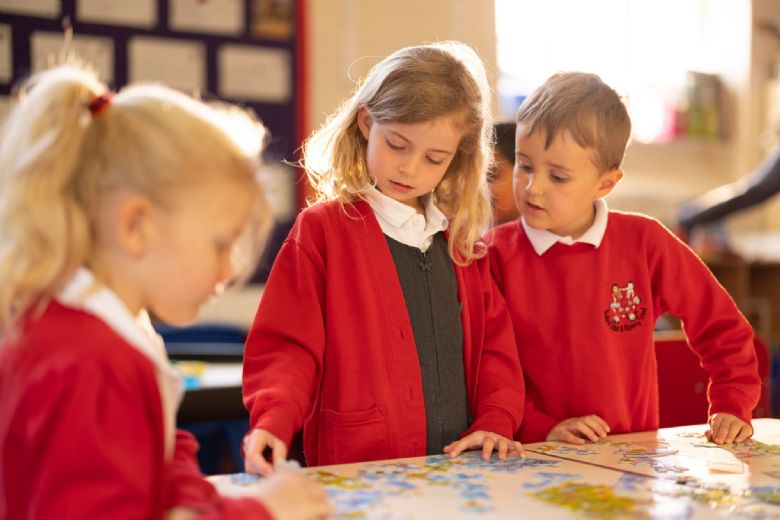 Mathematical understanding is grounded in practical experience. From their early days in school, children are making comparisons about size, weight, how long it is or the passage of time. Children love to count and this is further developed through looking at patterns within the number system and understanding manipulation of numbers through the operations of addition, subtraction, multiplication and division. Learning is based around teaching key strategies and providing opportunities to practise and use skills to solve problems. Knowing which strategy to use, and when, is an important part of understanding how mathematical understanding supports our daily lives.
Children learn best when they are inspired and are motivated by interest, so our creative curriculum throughout Key Stage One links subjects together to provide exciting themes which engage and enthuse. With an emphasis on skills for learning which transcend all curriculum areas, children will be involved in such themes as Street Detectives, Wriggle and Crawl, Amazing Machines and Castles. A flexible timetable allows children to focus their learning for a longer period of time and to develop their learning further without breaking their understanding.
We believe this focus on high standards through core skills within a creative and immensely enjoyable curriculum enables children to be supported and motivated to achieve their best. Children at our school consistently attain very highly when compared with national and local averages.
This attached document gives you the breakdown of the knowledge and skills that are taught in Year 1 and 2 for all the curriculum subjects. For specific information on which of them will be covered each term, please see the annual curriculum maps.
If you would like to know more about our curriculum at Shalford please contact us via the school office.
Religious Education
In our school, Religious Education is a part of a broad and balanced curriculum. All pupils receive RE in accordance with the Surrey Agreed Syllabus for Religious Education (2017-2022). This can be viewed here. In our class Annual Curriculum maps, you will find details about the RE that is taught in each year group. We expect all pupils to experience the full breadth of our curriculum, but should parents or carers wish to exercise the right of withdrawal for all or part of RE, they should consult the headteacher.
SEND
When a pupil has been identified with additional needs, their work will be differentiated by the class teacher to enable them to access the curriculum more easily. Teaching Assistant's may be allocated to specific groups/individual pupils during some lessons. If appropriate specialist equipment may be given to the pupil e.g., writing slopes, concentration cushions, pen/pencil grips or easy-to-use scissors.

Please see our Annual Curriculum Maps below for more details...